Coolest Water Seat Cushion Brings You A Coolest Summer
The best way to get away from hot summer.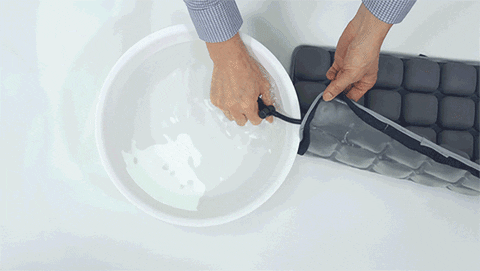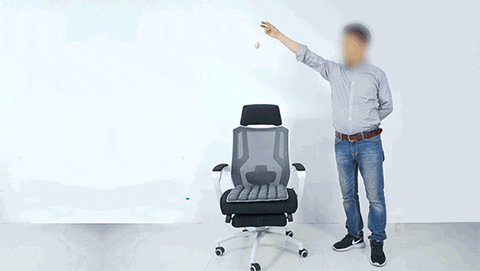 Relief stress: Even the falling egg doesn't crack! That's because the gas in the seat cushion is evenly distributed in the airbag. Each airbag can help you reduce the stress on your spine. Keep you away from spinal diseases and take a step closer to a healthy life.
Air convection technology: Seat on an egg? It's not a magic! With multiple air convection technology, when the airbag receives the squeeze, the gas flows to each other, producing a uniformly pressurized "anti-gravity" effect. This process can buffer the vertical pressure of more than 1/3 of the body weight, greatly reducing the load and pressure of the tail vertebra.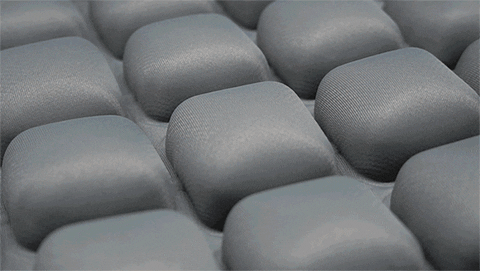 Water cool down: In addition to aeration, it also innovatively uses a water injection design, which is specifically designed for long-distance driving/sedentary people. It has been found by experiments that it can effectively help to cool down and disperse heat, so that you can stay away from sweat.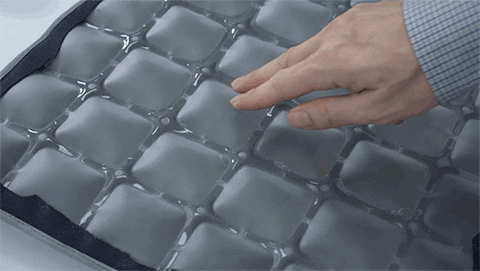 Non-slip on the seat: It won't go anywhere.  No straps required. There are 40,000 Class A anti-slip particles on the bottom of the cushion. It is densely distributed in regular hexagons. For any surface of the material, it can achieve an adhesion effect. The anti-slip effect can reach level A.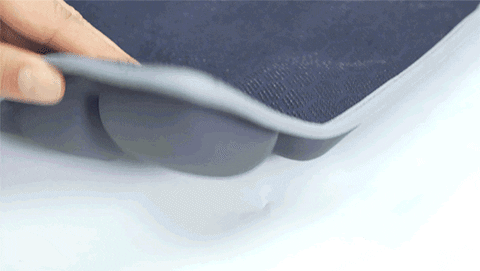 No air leakage, no deformation: It's strong enough to bear a car! We did a 200 kg pressure test: after repeated rolling of the car, the seat cushion does not leak or rupture.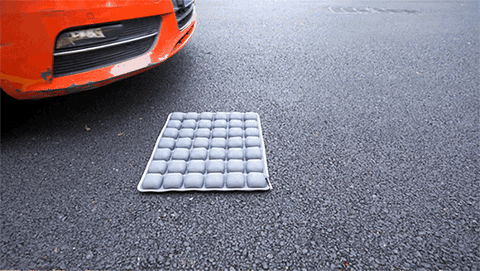 Reduce thigh pressure: Even feel stressful of your thigh? That's because the regular cushion doesn't have a special design to hold your thigh. The gas inside the airbag circulates, which distributes the pressure of the thigh evenly. The cushion can naturally support the legs, and reduce the pressure on the thigh of the chair surface.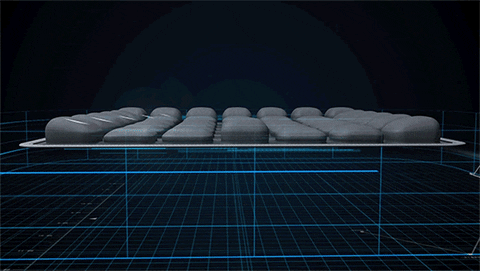 Full support, shape your body: Say NO to flat butt! The venting holes of the bumps form a unique support force to prevent the hip muscles from spreading. Dispersing the pressure from the point line surface, it is not easy to form a flat hip, thus shaping the natural beautiful buttocks.
Good material: It feels so smooth, and silky. A selection of polyester fabrics can be in direct contact with the skin, and the feel is comparable to silk. The fabric is smooth and comfortable, with good wrinkle resistance and shape retention. It also reduces sweating and heat, making it cool for the user even in the summer.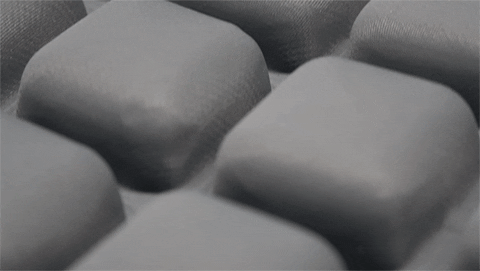 Easy inflation: One breath? It's not a challenge. For standard cushion, the intelligent nozzle design can be inflated with one breath. When deflation, just press the deflation button and give it a slight squeeze.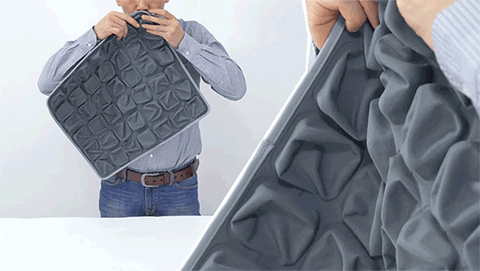 Breathable: It's "alive", it breathes. There are gaps between the airbags on the seat cushion to ensure that the buttocks are on the soft cushion while enjoying a relatively breathable state.
Portable: It can be small. After draining the water/air, the seat cushion can be easily folded and stored more conveniently. Small and portable, it is easy to carry around. More suitable for travelling and carrying.
Wherever you are, it's always there: Whether you are going to work, studying or driving, this cushion is a good partner for you. Due to the anti-slip particles of the seat itself, it is no longer necessary to use straps for fixing, and the movement is simple. This cushion can be used for various purposes.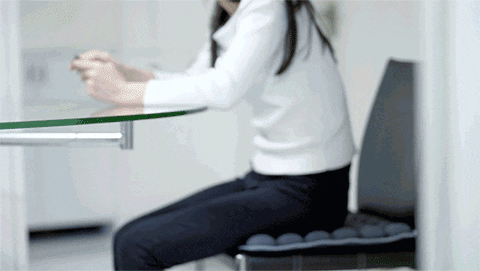 Dimensions: 460*410*30mm
Order processing time
Your orders will be processed within 2 days after placing the order, and the parcel will be shipped in the next three days.
Shipping time
Normally All items sold at E-cross are guaranteed to be delivered in 7-10 days after dispatch, but now in the COVID-2019 period, your order will take about one month to be delivered.
Shipping status
As soon as your order has been shipped, you'll receive a shipping confirmation email that includes your tracking number.
If you don't receive a shipping confirmation email right away, don't worry. We know the delivery date or date ranged provided at checkout and we'll be sure to deliver the items to you, or you can contact us to track your parcel. 
Available countries
Saudi Arabia, United Arab Emirates, and Global.
Shipping cost
*Ship to

KSA

 &

UAE
 Enjoy free shipping and free COD on every order.
*Ship to Global
| | | | |
| --- | --- | --- | --- |
| Order Amount | Costs | Nomal delivery time | Delivery time under COVID-19 period |
| Over 296.00 SAR | Free | 7-15 business days | About one mouth |
| Below 296.00 SAR | 38 SAR | 7-15 business days | About one mouth |
Customs duties
Imported goods or services may levy on tax which is regulated by the destination country law. E-cross is not responsible for any tax invoice charged on its products. Shipping rates are estimates and may depend on different policies and tax rates applied per country. Please contact local customs for clarity and information.
Email: cs_1@suh-sa.com
Facebook: www.facebook.com/Ecrossmall/
WhatsApp: +86 - 13316493679 / +44 7520627473
Thank you for your interesting in our COD service,


Available in 2 countries: Saudi Arabia, United Arab Emirates.
You can enjoy free shipping on every order in our store.  

If you have any further questions about this service you can contact us any time. We are always code here to help.

Here is coupon, and you can use it in your first order.
Discount code: 5%off
You can get  5% discount by the code.